Next day delivery: DKV LIVE assists Speedlink Worldwide Express B.V.
Next day delivery: DKV LIVE assists Speedlink Worldwide Express B.V.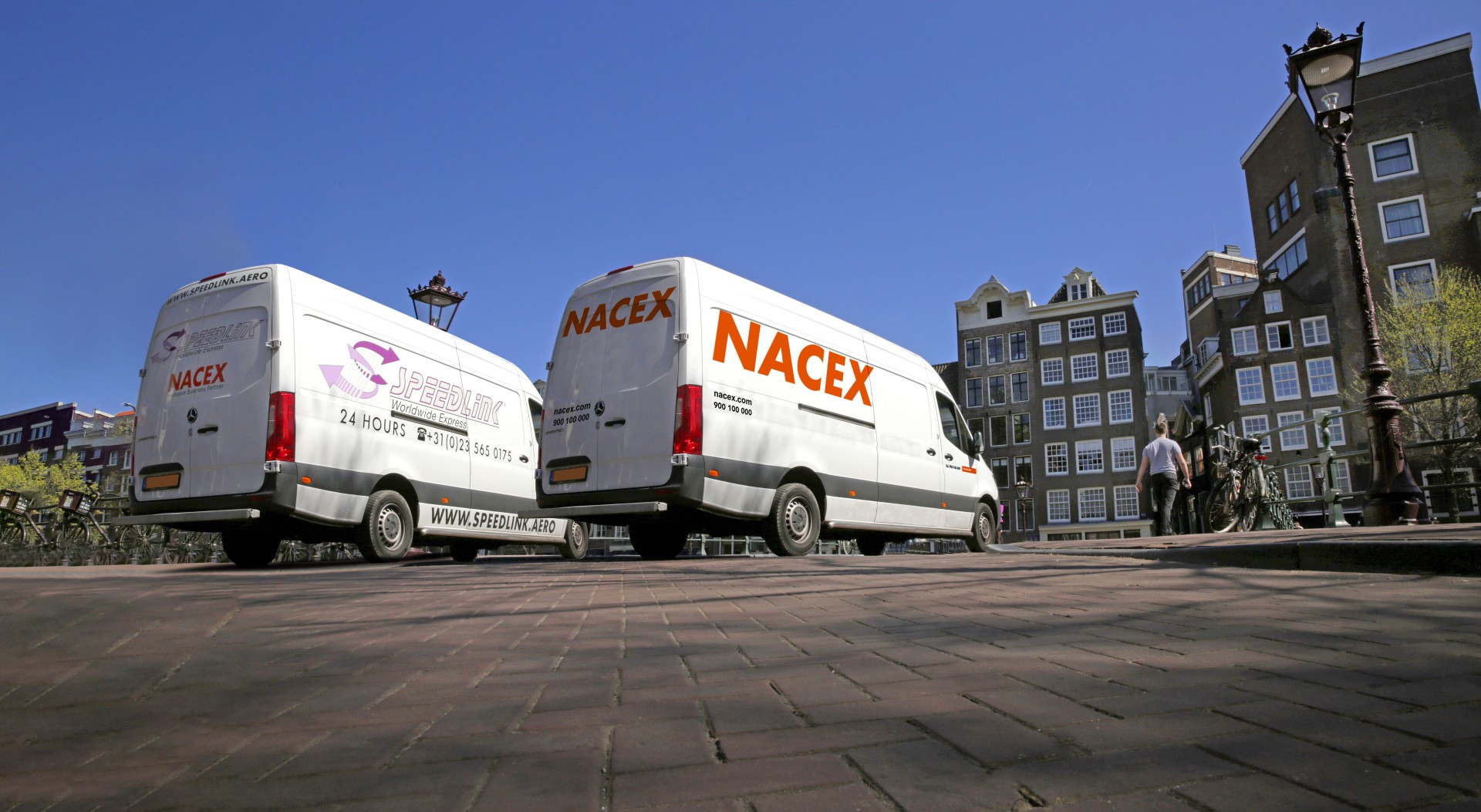 More and more packages are being delivered, and the recipient expects fast(er) delivery. Speedlink Worldwide Express B.V. from Hoofddorp knows all about this. The international logistics service provider specializes in next-day delivery in Europe, with a focus on the Benelux. DKV Mobility supports the company in improving the logistics process by means of DKV LIVE: the digital in-vehicle assistant that helps companies with administrative and practical matters.
DKV LIVE is an "onboard unit" (OBU) that is installed in company vehicles to collect important information, such as system data, through the fleet management system (FMS) port. With DKV LIVE, drivers and fleet managers have insight into real-time transportation tracking, trip history and driving behavior, among other things. Hamid Yousefy, Manager of Operations at Speedlink: "Most importantly, we can track our sprinters instantly, without delay."
According to Yousefy, the tracking feature is the biggest user benefit that DKV LIVE offers Speedlink. "You notice that courier companies that use a standard system for tracking their company vehicles lack flexibility. For example, when a customer calls about deliveries, it takes a lot of time to find out the location. With DKV LIVE, we get an update every 10 seconds in our digital portal, allowing us to communicate the exact location of a delivery instantly," he says. Speedlink's fleet consists of seven sprinters running continuously, plus several self employed drivers. Every company vehicle that runs under the Speedlink banner includes a DKV LIVE box.
Critical shipments
Speedlink specializes in time critical hospital delivery of medical devices, implants, dental and optical shipments amongst others. That's why real-time tracking is so important. Speedlink's service portfolio includes a wide range of both standard Express Network services and customized Special Services for particularly urgent shipments. This mainly involves medical products: Yousefy: "If we receive an order today it has to be on the operating table tomorrow morning," he says.
"I have been a driver myself. I know how things work on the road. With those insights, I can set up the logistics processes in the best possible way, also for our drivers. DKV LIVE really helps us with this." Real-time tracking is important not only for fast and efficient delivery, but also if there are difficulties along the way. For example, you can provide a piece of evidence if there is a disagreement between driver and customer. By sharing the log containing information about the departure time, the number of stops and the time of arrival."
User-friendly
Speedlink uses DKV LIVE specifically for cargo tracking and feedback trip information to the customer: what the route of the cargo is, where it is, are there any traffic jams along the way, and will the delivery arrive on location on time. The system itself is very straightforward and clear. Because of its ease of use, basically anyone can work with the box. "A new employee starting tomorrow, so to speak, can get along with the system with just a short explanation," Yousefy said.
Speedlink plans to use more DKV LIVE features in the future, which will also make more data available. For example, how fast the company vehicles are driving and how many stops are made. Yousefy: "The planning department can thus gain insight into when a car may need to be taken to the garage. Timely maintenance prevents breakdowns and so we can prevent unsafe situations on the road as much as possible."
DKV LIVE is constantly gaining new features, allowing transport to be increasingly digitized. Now Speedlink uses DKV LIVE primarily for freight tracking, but in the future they can support various business departments, such as planning and finance, with the data from the company vehicles. By proactively working with data, organizations can optimize operations.