{{include.title}}
Sustainability Report 2020: DKV Mobility accelerates e-mobility and low-carbon fuels push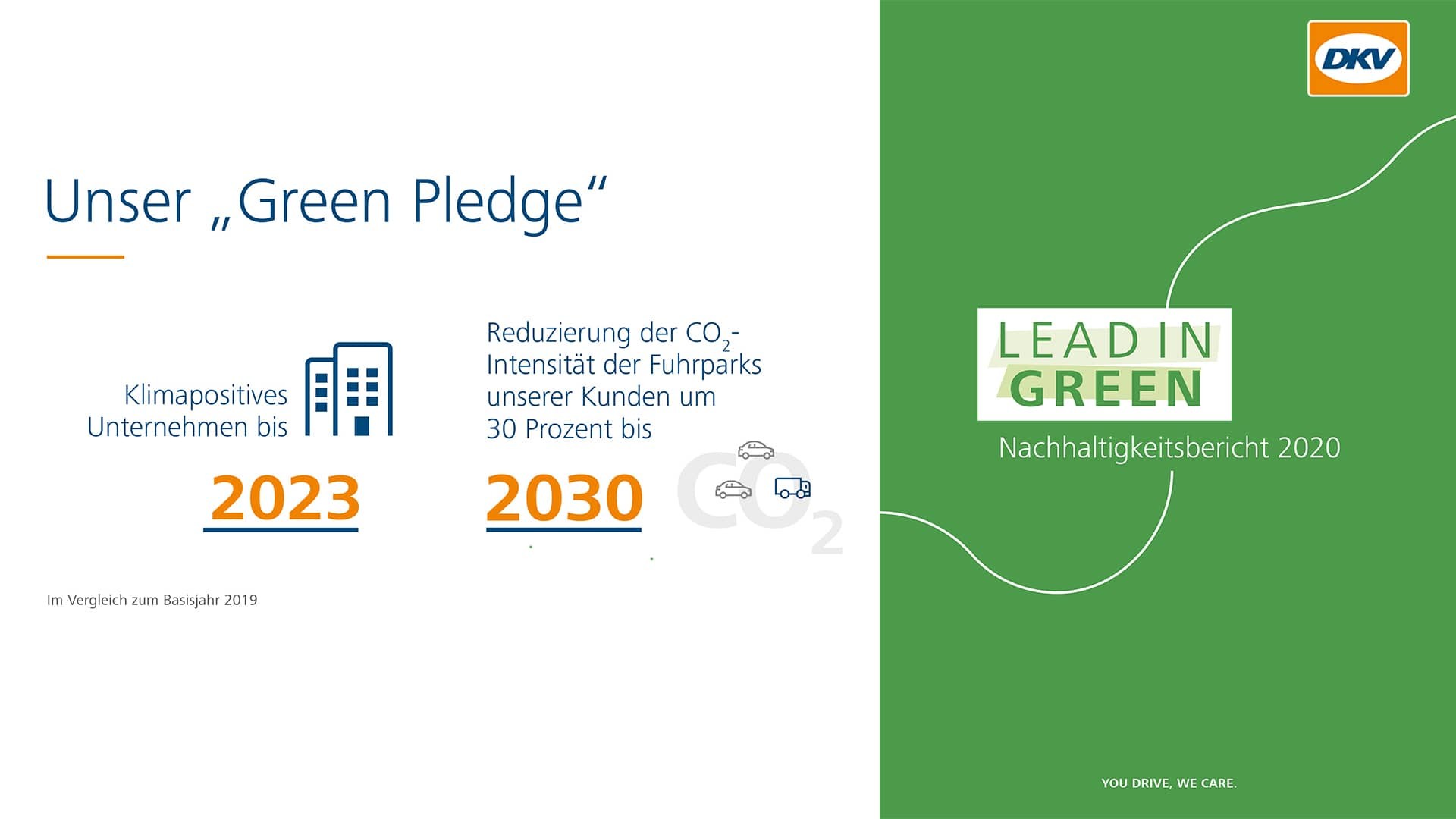 The European mobility service provider DKV Mobility today published its Sustainability Report 2020 which can be downloaded from the company's website. The Report, the first of its kind, is in accordance with Global Reporting Initiative (GRI) standards. As for the structure, the Report covers the most relevant aspects of ESG+C which represents Environmental, Social, Governance and Customers. The Report aims to inform the company's stakeholders about their sustainability strategy, climate protection targets and the progress in achieving their ESG+C goals in a transparent manner. The UN Global Compact's Ten Principles Communication on Progress (COP) on human rights, labour, environment and anti-corruption are also included.
DKV Mobility has made a strong climate pledge (The DKV "Green Pledge") by committing themselves to two very meaningful climate protection targets:
As early as 2023, their own business operations are expected to be climate positive. In addition, DKV Mobility will actively support their customers to reduce the carbon intensity of their fleets by 30 percent by 2030. With these, DKV Mobility makes climate protection a top priority and joint responsibility within and outside of their organisational boundaries.
At DKV Mobility, the topic of sustainability is firmly set in its corporate strategy especially with the creation of the newly established staff function "Sustainability & New Mobility".
Rapid development in e-mobility
With the Charge4Europe joint venture, as of end of 2020, DKV Mobility has connected 125,000 public charging points, thereby doubling their electric vehicle charging network compared to the previous year. Until today, the network grew close to 200,000 charging points.
Further expansion in alternative fuel offering
Progress has also been made in the decarbonisation of heavy goods vehicle. For instance, DKV Mobility now offers their customers the biggest independent service network for natural gas fuels – such as LNG and CNG – in Europe, recording far above-average sales growth in these segments.
With its LEAD IN GREEN programme, DKV Mobility remains committed to be at the forefront of driving positive sustainable change towards a more sustainable future of mobility in Europe.
For further information on DKV Mobility's Sustainability Report 2020, please visit: https://www.dkv-mobility-group.com/en/lead-in-green/#sustainabilityreport