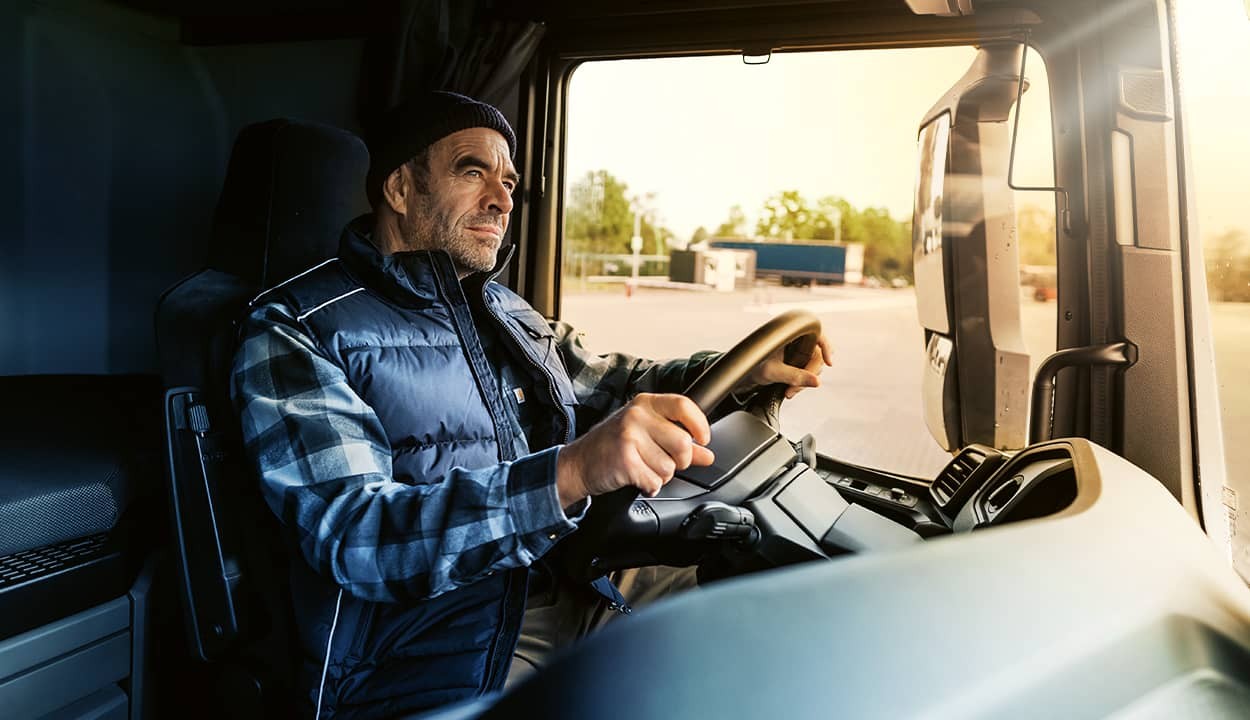 The right vignette
for your vehicle fleet
Information on the Eurovignette
You must pay a toll by purchasing a Eurovignette for vehicles over 12 t using motorways in the Netherlands, Luxembourg, Denmark and Sweden. Coaches are excluded from this rule.
The electronic Eurovignette records all the necessary information (licence plate number, emission class, number of axles and the validity period) digitally. The driver is not required to carry printed proof, e.g. for checking or inspections.
If you wish, DKV will automatically inform you in good time before the electronic Eurovignette expires.
Information on other vignette countries
In Bulgaria a vignette is compulsory for all motorways and long-distance roads. The time-based toll can be purchased quickly and easily using the DKV Card at all Bulgarian fuel stations.
The requirement to pay toll for trucks over 3.5 tonnes has been in force in Estonia since 2018. The toll is based on the number of axles, total weight and the emission class of the vehicle. Electronic vignettes can be ordered online . For journeys in the Baltic states, DKV customers can purchase all three Baltic vignettes (Estonia, Latvia, Lithuania) through the A-Toll portal .
The purchase of an electronic vignette has been compulsory for all trucks (HGVs) weighing 12 tonnes or more in the United Kingdom since 2014. The HGV Levy (HGV = heavy goods vehicle) must be paid via the official portal before a vehicle drives on roads in the United Kingdom. Automatic number plate recognition systems on roads and at ferries check the number plate of your truck.
The purchase of a vignette for goods vehicles with a permissible total weight of more than 3 t is compulsory for the use of long-distance roads. Coaches and mobile homes are exempt from this rule.
Vignettes can be purchased at selected fuel stations, terminals and online at the operator's website . You can choose between different validity periods: a day, week, month or year.
Vignettes are necessary for the motorways A1 to A18 in Lithuania. They are required for vehicles over 3.5 tonnes and can be purchased at border crossings.
Truck drivers who drive through Romania need an electronic vignette, known as the "Rovignette". The cost of the vignette depends on the time spent in the country.
DKV customers can pay for their truck vignettes using the DKV Card.
DKV Mobility Secure Check
Do you have any questions? We will be happy to answer them.
DKV Mobility Secure Check is a two-factor authentication for online purchases with the DKV Card. The second authentication factor are the DKV Mobility login credentials which are also used for the DKV Cockpit login. This makes online purchases for our customers even more secure.
Exemplary online purchases requiring DKV Mobility Secure Check: -Eurovignette
When purchasing a toll product online, DKV Card users typically enter their DKV card number on the website they want to buy a product from, along with the card's expiry date. After clicking the 'next' button, the user is presented with a DKV Mobility Secure Check pop-up. Here, the user has to enter his/her DKV Mobility Secure Check login credentials. After confirming these, the purchase can be completed.
Contact
Would you also like to benefit from the DKV advantages?
We will be pleased to call you back.
Hello .
Please enter your company name.
Please enter your email address.
Please enter your phone number so we can contact you.